Franco
released December, 2016
purchase signed copy
Franco Genovese is the drummer for world renowned American rock band, Rook.
He's got it all. A killer smile. Tattoos. Talent. Razor sharp wit and humor. And a heart as big, and generous, as they come.
Life is good. Steady. Uncomplicated. Just the way he likes things.
Until one night at an unassuming L.A. bar changes everything.
Enter Gemma Hendricks.
She's a successful young architect from Northern England with an adorable smile, sarcasm for days, and an unparalleled trusting heart.
The attraction is instant.
So is their friendship.
It's also temporary because they'll both be heading home, thousands of miles apart from each other, in a few days.
Or is it?
There's something Gemma wants more than anything else.
And when Franco propositions her to provide what she's looking for, everything changes.
Will it transform friendship into love, or will it be their ruin?
So Much More
released March, 2016
purchase signed copy
Love is strange. It comes out of nowhere. There's no logic to it. It's not methodical. It's not scientific. It's pure emotion and passion. And emotion and passion can be dangerous because they fuel love…and hate.
I'm now a reluctant connoisseur of both—an expert through immersion. I know them intimately.
When I fell in love with Miranda, it was swift and blind. She was the person I'd elevated to mythical status in my head, in my dreams.
Here's the thing about dreams, they're smoke.
They're spun as thoughts until they become something we think we want. Something we think we need.
That was Miranda. She was smoke.
I thought I wanted her. I thought I needed her.
Over time reality crept in and slowly dissected and disemboweled my dreams like a predator, leaving behind a rotting carcass.
Reality can be a fierce bitch.
So can Miranda.
And I can be a fool…
who believes in dreams.
And people.
And love.
Praise for So Much More
"I felt like I was inside Seamus and Miranda's heads, hearing the things we never say out loud to a spouse." –Renée Carlino, USA Today bestselling author
"Kim intricately entwines words to create beautifully fragile, yet resilient, souls…each needing to be loved. And I love them all." –Rebecca Donovan, USA Today bestselling author of The Breathing Series
Gus
released May 20, 2015
purchase signed copy
The journey that began in top-rated, best-selling Bright Side, continues …
This is the story of Gus.
Losing himself.
Finding himself.
And healing along the way.
" … but the honest-to-God truth is I don't even know how to function anymore. Bright Side wasn't only my best friend; she was like my other half … the other half of my brain, the other half of my conscience, the other half of my sense of humor, the other half of my creativity, the other half of my heart. How do you go back to doing what you did before, when half of you is gone forever?"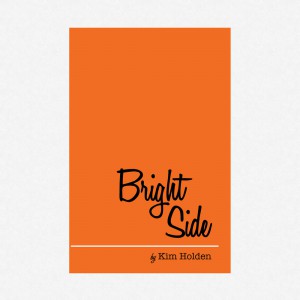 Bright Side
released July 4, 2014
purchase signed copy
available on Amazon

Secrets.
Everyone has one.
Some are bigger than others.
And when secrets are revealed,
Some will heal you …
And some will end you.
Kate Sedgwick's life has been anything but typical. She's endured hardship and tragedy, but throughout it all she remains happy and optimistic (there's a reason her best friend Gus calls her Bright Side). Kate is strong-willed, funny, smart, and musically gifted. She's also never believed in love. So when Kate leaves San Diego to attend college in the small town of Grant, Minnesota, the last thing she expects is to fall in love with Keller Banks.
But they each have a reason to fight it.
They each have a secret.
And when secrets are revealed,
Some will heal you …
And some will end you.
 All of It
released November 24, 2013
purchase signed copy
available on Amazon
Seventeen-year-old VERONICA SMITH has it all: a loving family, a funky car named Jezebel, and a plan to go to college after graduation.
On the first day of senior year, she meets DIMITRI GLENN–a mysterious transfer student with gray eyes and a mischievous smile who seems determined to win her heart. But there's something odd about Dimitri, leading Veronica to wonder if there's more to him than meets the eye.
Before long she finds herself in a whirlwind romance that seems too good to be true–until a series of devastating events leaves her questioning everything.
It's not until she chooses to think with her heart instead of her mind that she can rise from the ashes to learn the truth of their connection.